Awards & Acclaims
View Awards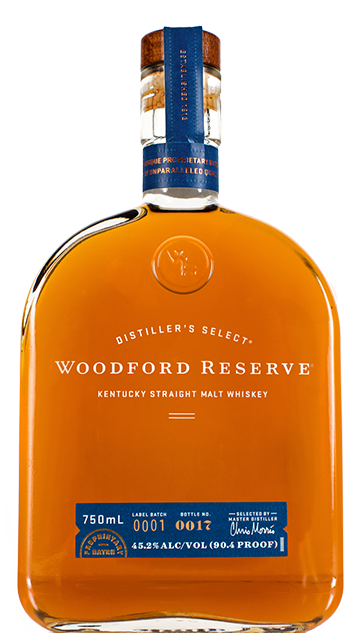 Malt Whiskey
Unlike a typical 100% malt whiskey, Woodford Reserve is a Kentucky Straight Malt Whiskey crafted from 51% malt and aged in new charred oak barrels, making it the malt whiskey for bourbon drinkers.
The base of 51 % malt results in a whiskey that is richly flavourful and complex and amplifies the nutty characteristics found in the original Woodford Reserve.
Tasting Notes
Nose
Soft nutty notes drizzled with light caramel and milk chocolate coat a layer of fruit character (apple, dried fruit, tropical fruit). Hints of brown spice, savory mint and brown sugar mingle with a rich note of freshly milled toasted oak.
Taste
Dark chocolate and caramel coated nuts are dried out with a dusting of cocoa powder and brown spice. A fruit medley brightens a trace of toasted coconut and rich, bright oak character.
Finish
Nutty and subtly sweet chocolate malt notes.
Malt Whiskey
Explore the flavour wheel
Tap to explore the unique flavour breakdowns of each Woodford Reserve expression. Every whiskey has its own special Flavour Wheel reflecting the diverse tasting notes you'll experience with every sip.
Wood
Coconut
Fresh Oak
Hazelnut
Pecan
Toasted Oak
Walnut
Fruit & Floral
Apple
Banana
Date
Fig
Mango
Orange
Pineapple
Raisin
Spice
Cinnamon
Clove
Cocoa
Mint
Nutmeg
Tea Leaf
Sweet Aromatics
Brown Sugar
Caramel
Dark Chocolate
Milk Chocolate
Awards & Accolades
Excellent, Highly Recommend
Ultimate Spirits Challenge