4 Gold Medals
More Awards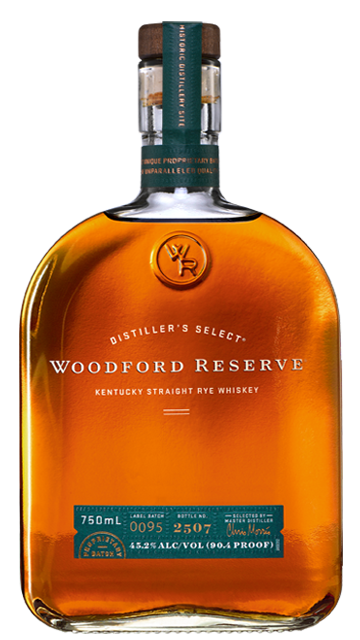 Rye Whiskey
Woodford Reserve Rye uses a pre-prohibition style ratio of 53% rye in its mash bill to pay homage to history's original rye whiskeys, making spice and tobacco the dominant note among a sea of fruit, floral, and sweet aromatics, which yields a nice sweetness and overall balance. Our rye whiskey can deliver complex flavors – neat, on ice, or in a cocktail. A balanced rye makes a more balanced cocktail.
Tasting Notes
Nose
Spicy with distinct notes of rye, black pepper, cedar and cassia bark sweetened with a dusting of marzipan. Hints of pear, apple and almond dance in its depths.
Taste
Clove, rye, mint, molasses, sorghum and honey mingle together with hints of apple and malt.
Finish
Long and sweetly spiced
Rye Whiskey
Explore the Flavor Wheel
Tap to explore the unique flavor breakdowns of each Woodford Reserve expression. Every whiskey has its own special Flavor Wheel reflecting the diverse tasing notes you'll experience with every sip.
Spice
Anise
Black Pepper
Cardamom
Cinnamon
Clove
Mint
Tobacco
Sweet Aromatics
Caramel
Cocoa
Dark Chocolate
Honey
Marzipan
Molassis
Vanilla
Awards & Accolades
Gold Medal
San Francisco World Spirits Competition
1st Place
International Whisky Competition
Excellent, Highly Recommend
Ultimate Spirits Challenge
Gold Medal
Class Bartender Awards
Gold Medal
American Whiskey Masters
1st Place - Best American Rye Whiskey
International Whisky Competition
Best in Class Gold Medal
Whiskies of the World Awards
Gold Medal
San Francisco World Spirits Competition
Excellent, Highly Recommend
Ultimate Spirits Challenge