14 Gold Medals
View Awards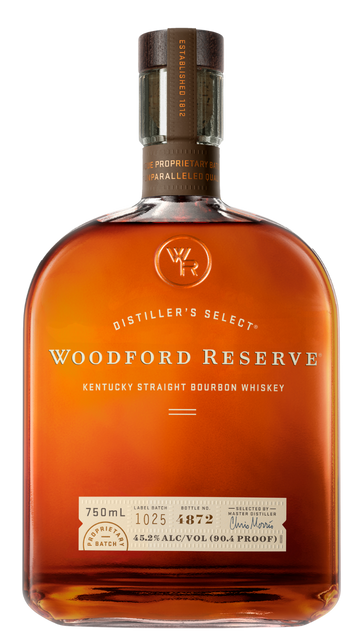 Straight Bourbon Whiskey
The art of making fine bourbon first took place on the site of the Woodford Reserve Distillery, a National Historic Landmark, in 1812. The perfectly balanced taste of our Kentucky Straight Bourbon Whiskey is comprised of more than 200 detectable flavor notes, from bold grain and wood, to sweet aromatics, spice, and fruit & floral notes.
Tasting Notes
Appearance
Clean, brilliant honey amber.
Nose
Heavy with rich dried fruit, hints of mint and oranges covered with a dusting of cocoa. Faint vanilla and tobacco spice.
Taste
Rich, chewy, rounded and smooth, with complex citrus, cinnamon and cocoa. Toffee, caramel, chocolate and spice notes abound.
Finish
Silky smooth, almost creamy at first with a long, warm satisfying tail.
Straight Bourbon Whiskey
Explore the flavor wheel
Tap to explore the unique flavor breakdowns of each Woodford Reserve expression. Every whiskey has its own special Flavor Wheel reflecting the diverse tasing notes you'll experience with every sip.
Wood
Almond
Cedar
Hazelnut
Oak
Pecan
Walnut
Fruit & Floral
Apple
Apricot
Blackberry
Blueberry
Cherry
Cognac
Cranberry
Green Apple
Honey Suckle
Lemon
Orange
Peach
Pear
Rose Petal
Spice
Anise
Black Pepper
Cinnamon
Clove
Coffee
Herbal
Mint
Nutmeg
Tobacco
Sweet Aromatics
Brown Sugar
Butterscotch
Caramel
Chocolate
Honey
Maple Syrup
Marzipan
Vanilla
Featured Cocktail
Woodford Spire
Ingredients
1.5 oz. Straight Bourbon Whiskey
2 oz. Lemonade
1 oz. Cranberry Juice
Instructions
Add ingredients to mixing glass and stir. Pour over ice. Garnish with a lemon twist.
More Classic Cocktails
Awards & Accolades
Double Gold Medal
San Francisco World Spirits Competition
Gold Medal
Class Bartender Awards
Gold Medal
Whiskies of the World Awards
Excellent, Highly Recommended
Ultimate Spirits Challenge
Gold Medal
Whiskies of the World Awards
Gold Medal
San Francisco World Spirits Competition
Double Gold Medal
San Francisco World Spirits Competition
Best in Class, Gold Medal
International Spirits Challenge
Gold Medal
San Francisco World Spirits Competition
Extraordinary, Ultimate Recommendation
Ultimate Spirits Challenge
Gold Medal
San Francisco World Spirits Competition
Whisky Innovator of the Year
Whisky Magazine
Platinum Medal
SIP Awards
Best of Class, Whiskies
New York Spirits Awards
Double Gold Medal
World Spirits Competition
Gold Medal
International Spirits Challenge
Double Gold Medal
World Spirits Competition
Gold Medal
International Wine & Spirits Competition
Double Gold Medal
World Spirits Competition
Best in Class, Bourbon
International Spirits Challenge