The subtle taste of bourbon, herbs, and berries makes this simple appetizer the hit of any party.
1 cup sugar
1 cup water
3 tablespoons Woodford Reserve Bourbon
1/4 cup dried apricots, diced
1/4 cup golden raisins
1/4 cup dried cranberries
1/4 cup dried cherries
1/2 cup chopped, toasted hazelnuts
8 ounce brie, round
Minced fresh thyme and parsley
Combine the sugar and water in a small saucepan and simmer until the sugar dissolves. Stir in bourbon, dried fruit and toasted hazelnuts. Bring to a light simmer, remove from heat and set aside.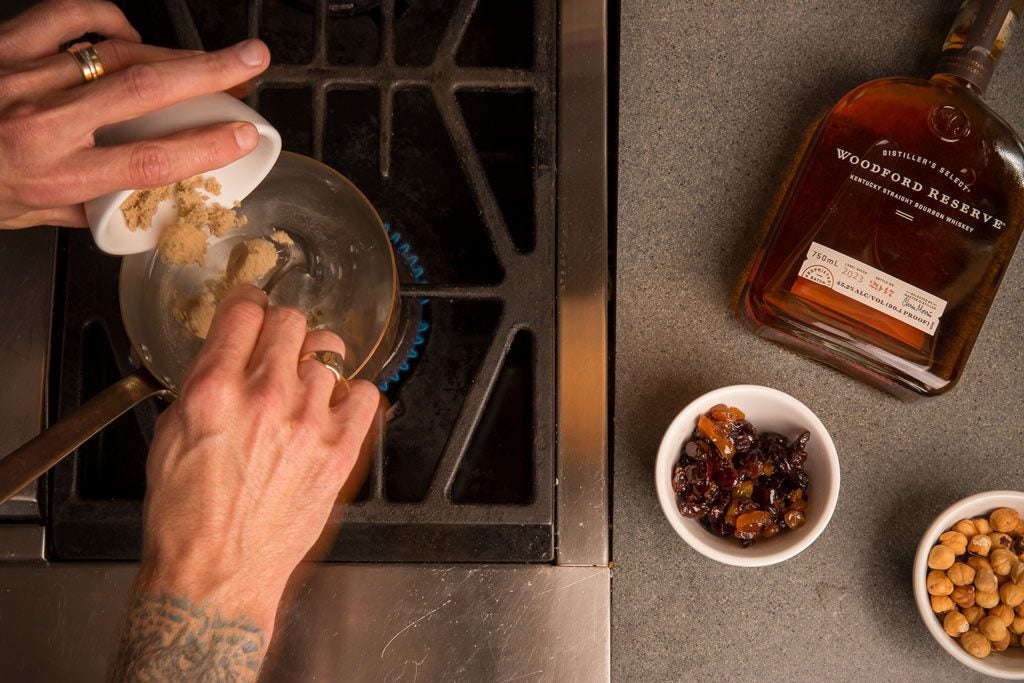 Place brie round on a baking dish that can go from oven to table, and also be used for final display (we used an iron skillet.).
Bake brie at 375 degrees for 8 to 10 minutes, until slightly puffed and warm.
Garnish with the fruit syrup mixture and fresh herbs. Serve with crackers.
(Note: You can use any leftover syrup for another brie, or as a garnish for pound cake or ice cream.)
Featured Whiskey
Straight Bourbon Whiskey
The art of making fine bourbon first took place on the site of the Woodford Reserve Distillery, a National Historic Landmark, in 1812. The perfectly balanced taste of our Kentucky Straight Bourbon Whiskey is comprised of more than 200 detectable flavor notes, from bold grain and wood, to sweet aromatics, spice, and fruit & floral […]
loading eRetailer data...
Learn More